You've been applying for jobs since July. I feel you. I graduated during the winter, and I didn't land a job for months. Now that I am on the other side, I know why.
The 4th Quarter, the last three months of the year! Things get strange, by strange I mean cheap. Employees start receiving emails about minimizing costs: No Travel, No Team Lunches, No Pens (yep), No Hiring. No Hiring impacts you the most, winter graduate. So, no, your application isn't being ignored because you're a terrible candidate. It's being ignored because managers are trying not to upset their bosses before the January 1st reset.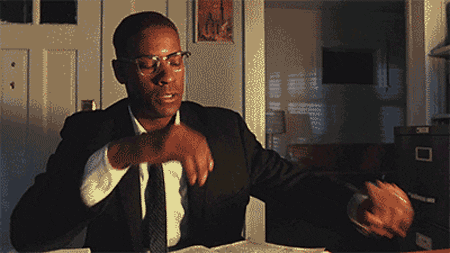 Okay, so it's not you and your okay, but not great GPA. What can you do over the next few weeks to prepare for the reset (and possibly longer)?
1.Enjoy your family. You just graduated from college, and it's almost Christmas. They're not expecting you to cash everyone out because you ain't got no job, Tommy. This year you get a free pass, but next year you'll be freeloading. Enjoy it while it lasts. This is the perfect time to catch up with old friends, reminisce on the college years you will never get back. How about this, Brokey; make a college scrapbook while the memories are still fresh. I wish I would have done that.
2. So, in this case, it might be you, they might not like your resume. Get it together. I am amazed at the awfulness of some of the resumes submitted to my organization. I don't quite understand why because there are plenty of free templates on the internet. Also, there is this thing called spellcheck which helps with misspelled words, but it isn't as good with wrong words. For that I recommend, Grammarly.
 Also, if you don't want to do it yourself, there are plenty of resume services. They vary in price and quality, but I'm sure there is a recent grad out there who is willing to cut you a deal. Or, hear me out, you can be the recent grad who does resumes. Side hustle, anyone?
3. Once your resume is in order. Apply in mass. Apply for the companies you love. Apply for the companies you hate. The money spends the same. If you land at a company that's not your first choice, get the experience then leverage it for the role you really want.
4. Take some professional headshots. That means selfies don't qualify. Find a real photographer. Everybody is a real photographer these days, so that shouldn't be too difficult. I should have said find a good photographer. I use www.juliusbryant.com.
5. Take that headshot and make it your LinkedIn profile pic then update your profile. People claim they don't find LinkedIn valuable. Well, you get out what you put in. Having a LinkedIn does not separate you from the pack, but not having a LinkedIn will, meaning you will be left behind. Trust me on this one.
Connect with individuals at companies that you would like to work. Send friend requests to recruiters, HR generalists, personnel supervisors, etc.; the people who deal with people. Also, craft a personal message that gets to the point. Let them know that you can add value to their company. Oh, and don't forget to say hello. People like that.
6. Write down a detailed 2-year plan. The reason I say 2 years is because research shows that the optimal amount of time to stay in a role is 2 years. Any longer than that, you're probably doing yourself a disservice financially. On a piece of paper, be honest about where you are now and where you are not. Then, write down where you want to be at the end of those 24 months. Finally, fill in the gap with how you will go from super-broke to I can afford brunch but not dinner broke in 2 years.
7. Become a wantrepreneur. Work on that side hustle. Keep doing hair on the side. Keep writing. Keep designing. Stop selling MCA. Are you really a life coach? I'm not saying you can't do my taxes, but you were selling Herbalife last week. Where's the commitment?
Finding a job is the first step in adulting. It can be discouraging but keep pushing and stay focused. Eventually, you'll get the career you love and income to match. But I guarantee you will not get that degree unless you pay those parking tickets.
---
Shell Brummell
What's up! My name is Shell Brummell, and you can find me at www.shellbrummell.com. I'm all about my bread, but I can't eat it because I have a gluten sensitivity. I would make a reference about cheese, but I'm lactose intolerant. I've made a living by not worrying about the things I can't have and focusing on everything I know belongs to me.